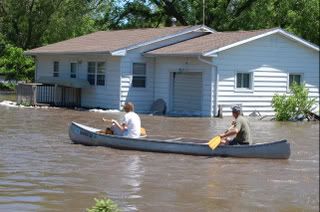 To all my peeps in the
U.S. Midwest Flooding Zone
...
Stay safe. Be careful. I hope you and yours will get out of this okay. When even the government is using words like
"historic"
, and there appears to be increasing amounts of
bad news on the weather front
(Tornadoes, too? Jesus...)
Just be careful.
And those of you living downstream, please be prepared. I'm old enough to remember the
Great Flood of 1993
, which had very similar beginning. I knew a couple of people who were Red Cross volunteers and National Guardsmen (y'know, back when National Guardsmen weren't sent overseas and were kept at home to actually help in times of national crisis) who got called in to sandbag/provide medical services/do relocations during the Great Flood.
Yeah...
The New York Times
has a
list of organizations seeking donations to help the flood victims, if you're so inclined.


----------------
Now playing:
Anonymous 4 - Anon: Alleluia - Alme Iam Ad Gaudia
via FoxyTunes