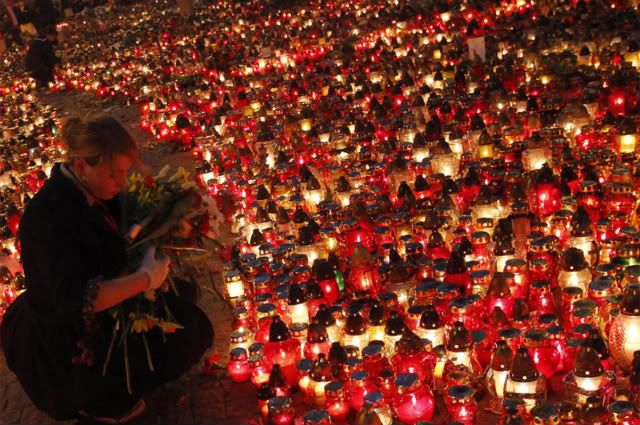 Mourning for the loss of Polish President Lech Kaczyński, his wife, and other high government officials who were killed Saturday, April 10, in a plane crash that claimed the lives of 96 people. AP Photo/Czarek Sokolowski
I meant to write this Saturday, so my apologies for the delay. My deepest sympathies for your loss of
President Lech Kaczyński, the first lady, and other high government officials
this past Saturday. Whether you supported his administration or not, I cannot imagine the depth of your loss and the uncertainty you must all be feeling.
Also via
Talking Points Memo
: I was not aware that Ryszard Kaczorowski (who was killed in the crash) was the last president of the Polish Government in Exile, which existed in London from 1939 (Hitler's invasion of Poland on the eve of World War II) up to 1990 (with the dissolution of the Communist government in Poland). I was aware of the Polish Government in Exile itself, though, in large part because I went to Catholic school that was ethnically Polish.
His loss seems like a loss of a piece of history. This is a man whose life spanned the Second Polish Republic, occupied Poland, post-war communist Poland, the Solidarność movement, and the emergence of a parliamentary form of government in modern-day Poland. It's a stunning span of Poland's history that not many can claim to have witnessed.
Again, my condolences to my Polish compatriots, wherever you live.
ETA:
I corrected the above because I erroneously said said that Lech Kaczyński was the last president-in-exile. Thanks to
curiouswombat
for correcting me. *winces*