For those of you not familiar with the Presidential Primary Season, the first voting in the nation (Iowa is a caucus, not a secret ballot vote), the first actual voting in the U.S Presidential Primary occurs in Dixville Notch at 12:01 a.m., followed quickly by the folks at Hart's Location.

In case you're curious, here are the vote tallies:

Dixville Notch
Republican
John McCain: 4 votes
Mitt Romney: 2 votes
Rudy Giuliani: 1 vote

Democratic
Barack Obama: 7 votes
John Edwards: 2 votes
Bill Richardson: 1 vote


Hart's Location
Republican
John McCain: 6 votes
Mike Huckabee: 5 votes
Ron Paul: 4 votes
Mitt Romney: 1 vote

Democratic
Barack Obama: 9 votes
Hillary Clinton: 3 votes
John Edwards: 1 vote


*points to vote tallies above* Yup. This is what everyone's getting all excited about.

Or rather, they were.

Right now, they're all excited about the record voter turnout, as in the kind of a turnout where towns are worried they're going to run out of ballots.

And New Hampshire, which notoriously has people who register as UNDECLARED but tend to vote Republican in the elections, are breaking heavily for (astoundingly) the Democratic Party this go-round. A blue New Hampshire? Crazy-ness.

Of course, it's always fun to read what people have observed at the polls while voting. A lot of people have seen the same thing: the undeclared signing up to vote in the Democratic Party primary before (in the great New Hampshire tradition), switching themselves back to "undeclared" before they leave the polling location.

Of course, no first-in-the-nation Primary Day would be complete without oodles and oodles of pictures.

And you know what? I don't care who they're voting for. The picture below just simply makes me happy: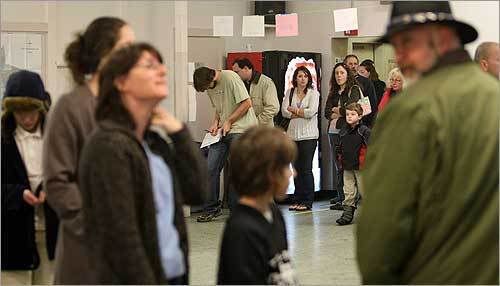 Voters lined up to cast their ballots at a polling place in Manchester. New Hampshire Governor John Lynch predicted a record voter turnout as early reports filtered in
about some polling places running short on ballots. — Caption and Photo taken from The Boston Globe; Credit Getty Images/Mario Tama.




And so on that note, Happy Presidential Primary Day to all my peeps in New Hampshire.