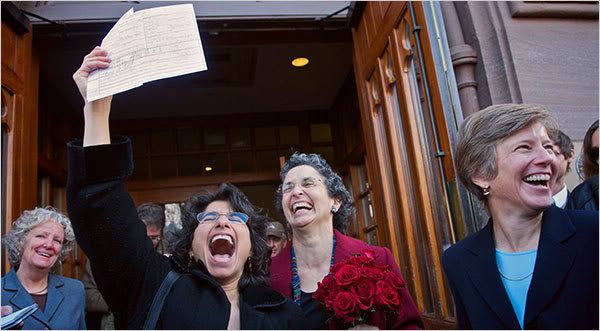 Barbara and Robin Levine-Ritterman left New Haven City Hall with the first marriage license issued to a same-sex couple in Connecticut on Wednesday. Robin is holding the license. — Photo by Shana Sureck for The New York Times




Today, the Nutmeg State, a.k.a. Connecticut, began issuing marriage licenses to same-sex couples.

Unlike in Massachusetts (and the late, great California...don't worry guys, I have every confidence you'll be soon back in the club), the sturm und drang surrounding allowing same-sex marriage was at a minimum throughout the whole process. Sure, you have the usual suspects grumbling, but they're mostly being ignored. Let's face it, Massachusetts has already proven that same-sex marriage is actually beneficial overall to the neighborhood. And since Connecticut is right next door, they pretty much know that the bullshit that was spouted in California about the "reality of same-sex marriage" was just that: bullshit.

In even bigger good news, marriages performed in Massachusetts and Connecticut will not just be mutually recognized between the two states, they will also be recognized in New York and Rhode Island, even though neither New York or Rhode Island performs same-sex marriages themselves. (That may well be changing in New York sooner rather than later, by the way.)

Sure, Connecticut is a quiet victory, but it is a victory nonetheless. Its very quietness makes it even more of a victory in a way. Too bad it's one that'll be lost as Californians (rightfully) gear up to protest the morally repugnant practice of voting to rescind someone's basic human rights.

But look at it from another point of view: Five years ago, the number of states that performed same-sex marriage, let alone recognized it, was precisely zero. Today there are two states that issue marriage licenses (true, there should have been three, but Massachusetts and Connecticut are not repealing their shiny new marriage laws under any circumstances short of the federal government holding a gun to our heads), and two more states that recognize those licenses with no restrictions.

Think about that: within the past 5 years, 2 states began performing same-sex marriages, and a total of 4 states openly recognize those marriage licenses.

I know in the wake of Proposition 8 it's hard to feel hopeful about granting full civil rights to GLBT citizens in the U.S., but the fact is: progress has been made, despite the screaming from the religious right, despite the bitching of the Catholic Church and the Mormons, and despite invasions from out-of-state hate groups trying to make us vote "the right way."

Progress is still being made. And if the entire fucking Northeastern United States has to pull together and lead the push uphill for full marriage recognition, we will get there in our lifetimes.

Keep the hope, keep the faith, and keep fighting. We're closer than you think.