This is a right whale, one of the rarest mammals on planet earth: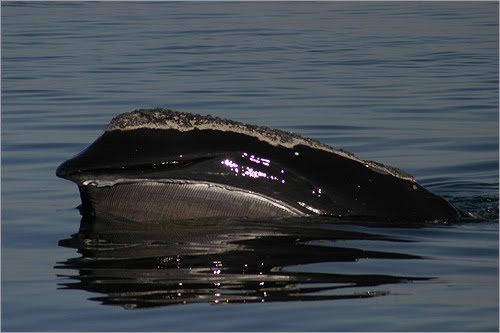 Photo from the Provincetown Center for Coastal Studies/NOAA and published in the Boston Globe.




And this is an aerial view of Cape Cod Bay: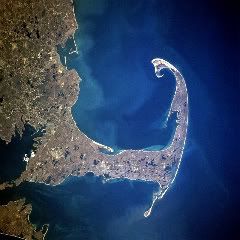 What does one have to do with the other?

Well, roughly 70 right whales (who, let's be honest, will never make the cover of Fuzzy Wuzzy Cute Animals Monthly) are hanging out in Cape Cod Bay. What floors me is that this number represents 20% of the approximately 375 right whales left alive.

One thing I did not know: right whales bellying up to the zooplankton bar in Cape Cod Bay is an annual right of spring.

However, the thing that's got everyone really excited is that no one has ever seen this many right whales in one place at the same time. Needless to say, there is much rejoicing going on amongst local scientists and residents. There's even a Boston Globe slide show of the whales frolicking in the blue-green murky water that is Cape Cod Bay.

You gotta admit it's a cool sight, even if I'm not seeing it in person.

Plus, isn't this a lot more interesting than vampire rumors at Boston Latin?

[And by the way, before anyone giggles about dumb kids believing in vampires, it wasn't that the kids actually believed vampires were real, it was that some assholes were using the vampire mythos to bully their schoolmates. For whatever reason, the local media focused on the damn vampire part, instead of the damn bullying part. I don't have issues about this. Not. At. All.]

*breathes deep*

Focus on the cool whales...focus on the cool whales...focus on the cool whales...